The Village of Spring Hill, Inc.'s 8th Annual Sidewalk-A-Thon
29mar3:00 pm6:00 pmThe Village of Spring Hill, Inc.'s 8th Annual Sidewalk-A-Thon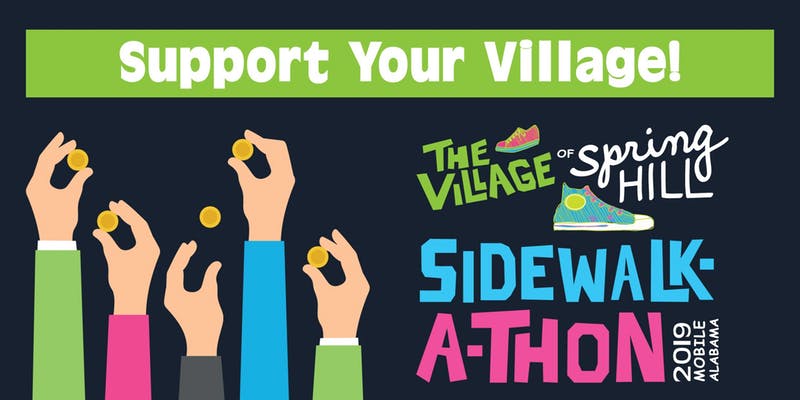 Event Details

The Village of Spring Hill's

8th Annual Sidewalk-A-Thon

Ready to Put on Your Walking Shoes!

Join your friends and neighbors for the Village of Spring Hill's Eighth Annual Sidewalk-A-Thon on Friday, March 29th.

Registration will be held from 3:00 until 4:00 PM next to the Moorer Library Branch. The walk begins at 4:00 pm.

The Sidewalk-A-Thon is a one mile walk from the Moorer Public Library on South McGregor Avenue to Dorn Field on the campus of Spring Hill College. Proceeds from the Sidewalk-A-Thon are used for additional sidewalk construction in the Village. Children and adults of all ages are invited to attend!

There will be a finish line party on Dorn Field following the walk that will last until 6:00 PM. The finish line party will include DJ Lonn Spencer, games, and treats.

Children can compete for great prizes.* There are prizes for raising the most money, and they will be awarded in the following categories:
•Individual (must raise a minimum of $500 to be eligible) – XTC Jr 24 Lite Bike from Cadence 120 Bicycles** Boys or Girls Bike based on winner and the parents can enjoy a certificate for a Concrete pressure Wash from SoftWasherz up to 3,000 square feet!
Team of 2 to 10 people– Ice cream party at Cammie's Old Dutch Ice Cream Shoppe
•Team of 11 to 20 people– 20 Kids Cups at Cold Snap Frozen Yogurt
The School With the Most Participants will also receive a Recognition Prize!
Registration
How much is the registration fee? Just $15.00 per person.
Can I register the day of the walk? Yes, but you must register by March 13thto be guaranteed a water bottle.
If you register by March 13 you are also eligible to win Gift Certificates from Local Spring Hill Merchants!
Teams
Want to form a team and walk? Enter your team's name in the area provided.
Team of 2 to 10 people
Team of 11 to 20 people
** You cannot switch teams once you have registered**
Download Materials
Download Materials to assist me with raising money in my neighborhood.
Registration Form
* While donations will continue to be accepted following the conclusion of the Sidewalk-A-Thon, only those donations received by TVSH prior to the end of registration on the day of the Sidewalk-A-Thon (4:00 pm on Friday, March 29th) will be considered for purposes of awarding prizes.
**Enchant-24-Lite Dark-Blue Bike (the "Bike") is valued at $250. The winner of the individual prize may exchange the Bike for a different bicycle at Cadence 120 Bicycles if, but only if, the Bike does not fit the winner. Provided, however, that if the winner exchanges the Bike for a bicycle of greater value, then the individual will be solely responsible for the difference in price (including tax). On the other hand, if the winner exchanges the Bike for a bicycle of lesser value, then it is expressly understood and agreed that no refund shall be provided to the individual winner.
Photography and Video Disclaimer

At various times during the Sidewalk-A-Thon event and finish line party, photographs and/or video recordings may be taken by The Village of Spring Hill, Inc. ("TVSH") or others, including but not limited to other participants or third-parties. By registering and/or attending the Sidewalk-A-Thon, you grant to TVSH permission to use the registrant's and/or attendee's voice and image in any such archival, promotional or marketing recording, photograph or streaming activity (including but not limited to prints, websites, blogs, and internet) without any compensation or credit to the registrant/attendee. Further, you confirm that you are at least 21 years old, that you are a parent or legal guardian of the registrant and/or attendee, and that you have the right to provide legal consent for this disclaimer on behalf of the registrant/attendee.
more
Time

(Friday) 3:00 pm - 6:00 pm
Location

Moorer Library Branch

4 S. McGregor Avenue, Mobile, AL 36608