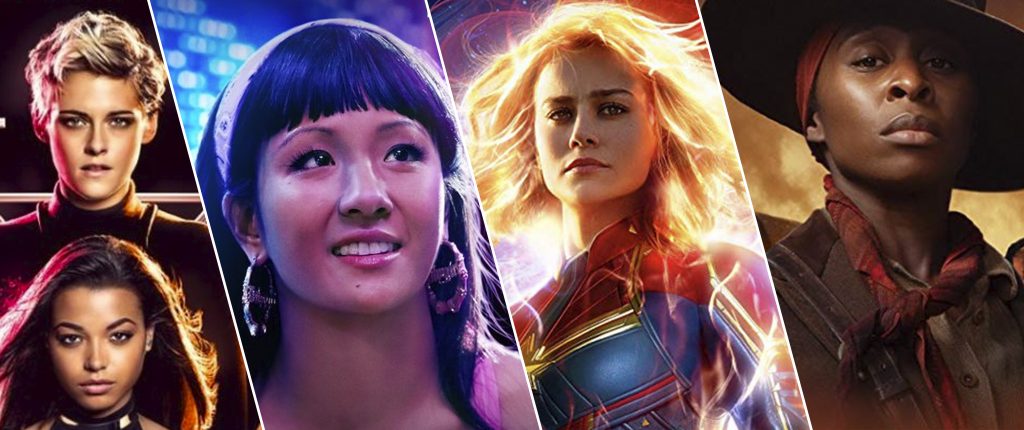 This past year was monumental for women in film. From actors to directors and producers, women headed some of the top films of the year. Women have long been trying to break into the film industry, aiming for more than just supporting roles. There are hundreds of incredibly talented actresses and directors who deserve recognition this year. With many problems in the film industry including sexual harassment, it's a difficult ceiling to break through. However, these women's talent shone and the world took notice.
2019 was a record-setting year for women in film. Women directed 12 of 2019's top 100-grossing films in 2019, according to a study released by USC Annenberg Inclusion Initiative. That percentage of female filmmakers is greater than researchers have recorded before. This suggests there's been a shift in inequality in the film industry.
This is the first time in 13 years that there has been a shift in hiring practices for female film directors, according to Stacy L. Smith, one of the study's authors. "One notable reason for this jump in 2019 was that Universal Pictures had five films with women directors at the helm in the top 100 movies. Yet there is still much more progress needed to reach parity for women behind the camera," she said.
*Spoiler Warning: If you haven't seen these films, there may be spoilers. Don't read if you want to avoid them.
Director: Lorene Scafaria
Writers: Jessica Pressler (magazine article that served as inspiration), Lorene Scafaria (screenplay)
Starring: Jennifer Lopez, Constance Wu, Julia Stiles, Keke Palmer, Lili Reinhart
This lady-powered film tells the real life story of women in the exotic dancing industry following the 2008 stock market crash. These women turn the tables on their Wall Street clients, stealing their money and running up their credit cards. More than just a film about exotic dancing, Hustlers shows the inner workings of the exotic dancing industry and the lengths that women sometimes go to in order to make ends meet. The cast's natural abilities brought the characters alive and told the story in the most real way possible. Special appearances by Lizzo and Cardi B made the film that much more comedic, beautiful, and body positive.
Director: Kasi Lemmons
Starring: Cynthia Erivo, Leslie Odom Jr, Joe Alwyn
Harriet tells the legendary and inspirational story of Harriet Tubman, a woman who escaped from slavery and became one of America's greatest heroes. Starring Cynthia Erivo, this film leads you through Tubman's journey through dangerous, life-threatening situations to liberate hundreds of slaves through the Underground Railroad. The film focuses on freedom, an issue that is still pressing today. Since this is the first time Tubman's story has been put on the big screen, these two women had the daunting task of portraying her in the most realistic way possible. Its director Kasi Lemmons and Erivo said they did a lot of research and a lot of studying photos of Tubman in order to determine what her mannerisms, cadence of speech, running style, and voice would be like. It's told through the perspective of a female, which is not something you usually see with films about slavery.
Director: Elizabeth Banks
Starring: Kristen Stewart, Ella Balinska, Naomi Scott
This woman-led action comedy is derived from the 1970s TV series of the same name and is preceded by two films of the same name. This, however, is the first all-female adaptation of this storyline. It follows stars Kristen Stewart, Ella Balinska and Naomi Scott as the new generation of Angels who work for a private detective agency. With many other notable actors in supporting roles, this film is full of talented cast members who bring new life to a classic storyline. Elizabeth Banks joined the team as the director, producer and writer. She says it's a continuation of the storyline, not a reboot. Drew Barrymore, who starred in and produced the previous films, was also an executive producer on this project. This film exudes strong female energy, and it's something that could inspire the next generation of young girls to be strong themselves.
A Beautiful Day in the Neighborhood
Director: Marielle Heller
Starring: Tom Hanks, Matthew Rhys
This film tells the story of Fred Rogers, everyone's favorite educational and inspirational neighbor, and his friendship with cynical journalist Lloyd Vogel. Many people grew up watching Mister Rogers' TV show Mister Rogers' Neighborhood with the memorable song "Won't You be My Neighbor?" The film released on November 22, 2019 with Tom Hanks and Matthew Rhys in the starring roles. This talented duo pays homage to our beloved neighbor, Mister Rogers. Director Marielle Heller said she wanted this film to tell kids the truth about the difficult topics in life. She is a parent who vividly remembers experiencing the episode of Mister's Rogers' show that talked about death with her son who was three at the time. Heller is trying to make changes in the film industry for women who are parents (and all parents) to not have to sacrifice work for family. She said in an interview with NPR, "I don't think Fred Rogers would want us to make a movie about him where we all abandon our kids in order to make it."
Director: Chris Buck, Jennifer Lee
Starring: Idina Menzel, Kristen Bell, Josh Gad, Jonathan Groff, Santino Fontana
Frozen II is a continuation of the Disney film that took the world by storm in 2013. This film follows the journey of sister duo Elsa (Idina Menzel) and Anna (Kristen Bell) along with sidekicks Olaf (Josh Gad) and Kristoff (Jonathan Groff). If you have young kids, you're all too familiar with the original story of the team fighting to save their kingdom, and you probably still can't get "Let it Go" out of your head. Frozen II was directed by Chris Buck and Jennifer Lee, who told the story of once again having to save the kingdom of Arendelle, this time by finding the source of Elsa's powers. Multi-talented Menzel and Bell make an iconic duo voicing the two main characters and singing the songs in the film. This movie screams girl power, and it's a good movie for young boys to see, too. The men in supportive roles recognize these women's abilities and, instead of getting insecure and trying to overpower them, offer their assistance on their journey.
Director: Bradley Cooper
Starring: Lady Gaga & Bradley Cooper
A story of a musician helping a young singer find fame as he fights his own personal battles with alcoholism and a life in the spotlight. Lady Gaga and Bradley Cooper star in this beautiful, intimate film about stardom and love. While it came out in 2018, the film received numerous awards in 2019. It received numerous major nominations and won several awards, including an Oscar for Original Song, BAFTA Film Award for Original Music, and a Golden Globe for Best Original Song in a Motion Picture. Gaga and Cooper's performance together is nothing short of magical; you can feel the love and friendship radiating through them as actors, and it shines through in the film and in live performances. This movie and its soundtrack are superb, and they tell an important story of mental health while in the spotlight.
Director: Anna Boden, Ryan Fleck
Starring: Brie Larson, Samuel L. Jackson, Ben Mendelsohn
This Marvel film tells the origin story of one of its greatest comic book heroes, Captain Marvel. Starring Brie Larson as Captain Marvel, this movie is set back in 1995. Larson's character becomes one of the universe's most powerful beings when Earth is caught in a war between two alien races. Larson was the perfect fit to play this incredible character, as she is talented and has a careless attitude to anyone who degrade's the character simply because she's a woman. While other female-led superhero films like Wonder Woman had already been released, there was still a lot of controversy surrounding Captain Marvel. Many people thought that only men should be superheroes, and many were angry that this character was more powerful than some male characters. Larson, however, is proud to play this powerful female character. She says that she loves embracing Captain Marvel's flaws. "People who are taking great strides in this world are also failing," she said to IMDB.
Directors: David Nutter, Miguel Sapochnik, David Benioff, D.B. Weiss
Starring: Emilia Clarke, Peter Dinklage, Lena Headey, Nikolaj Coster-Waldeau, Maisie Williams, Kit Harrington
The final, much-anticipated season of one of the biggest tv shows in the world based off of the novels by George R. R. Martin was finally released in 2019. After over a year of waiting, six episodes were all that was left of this world-renowned, top-rated TV show. Many fans disagree with the ending of the season, but no one can disagree with the fact that this TV show took the world by storm and presented us with a number of strong female leads. Emilia Clarke (Daenerys Targaryn) gave the performance of a lifetime with the mental and physical degradation of her character. She went from a timid, innocent young woman in season 1 to a leader and true "Mother of Dragons" before finally becoming one of the most hated characters. Lena Headey plays the much-hated Cersei Lannister. Although her character commits vile acts, we can feel her pain and her true love for her children through Headey's acting. You almost start to feel sorry for Cersei with every loss she faces (that is, until she kills a character you love). Sophie Turner (Sansa Stark) and Maisie Williams (Arya Stark) play a powerful sister duo who have a no nonsense attitude to anything an incompetent man tells them. Sansa went through her own journey of abuse before coming out the other end as the next ruler of Winterfell. In season 8, Arya became the most beloved character (if she wasn't already) when she put her years and years of sword and knife training to the test when she singlehandedly killed the Night King (one of the biggest antagonists of the entire series). We also come to love Gwendolyn Christie's character Brienne of Tarth as she is finally named a knight of the Seven Kingdoms. It's monumental because she's a woman, but she's more capable than the majority of the men on the show. Game of Thrones gave us eight years of rollercoastering through heartbreak and elation, and it also gave us many female leads to look up to. This is what makes the show so unique and so special.
Director: Anthony Russo, Joe Russo
Starring: Scarlett Johansson, Brie Larson, Robert Downey Jr, Chris Evans, Mark Ruffalo, Chris Hemsworth, Jeremy Renner, Don Cheadle, Paul Rudd, Karen Gillan, Zoe Saldana, Josh Brolin
Avengers: Endgame is the finale of the 12-year-long saga of Marvel films based off of Marvel comics and writing by Stan Lee. Following almost 30 characters, these films all pointed to this epic finale of one of the most iconic franchises of our time. This was easily one of the most anticipated films of the year. With many female leads at its heart, it's a tale of overcoming evil, genuine friendships, sacrifice and girl power. Scarlett Johansson, playing Black Widow, is one of the leading ladies who make this movie as incredible as it is. Karen Gillan (Nebula) also gives a powerful performances playing her character from two different time periods with vastly different morals. This movie, while three hours long, is worth every minute. While there are more leading men than women, the women in this storyline make it what it is, and it would be nothing without them. They are powerful, smart, dedicated and willing to sacrifice it all for the good of the team and the world. Young girls have many women of many different ethnicities and backgrounds to look up to in Marvel films, and Endgame is a culmination of all of those films.