Unconventional forms of art have a deep-rooted culture in the south, and Alabama Contemporary Art Center's show Urban Wild wanted to highlight this. While many consider "fine art" to be the pinnacle of the arts scene, there is a competing genre of art that hails from the southern roads we call home. Urban Wild is an art exhibition that explores the area where Southern Folk and Street Art blur together.
Elizabet Elliot, Director of Exhibitions and Programs at ACAC, was the curator for this unique show. When curating this exhibition, it was less about finding pieces that were a "like" and more of finding ones that have something to say about the world we live in. The combination of pieces represents the melting pot that the south is and its diverse landscape. Some common themes were death/mortality, religious iconography, neon/glitter, and play. While some pieces were framed artwork, many were three-dimensional, interactive, or murals.
Elizabet wanted the show to be in this particular genre because the shared ideology between Street and Folk Art interested her. "Neither is given a fair shake by art history, but both fundamentally deal with geography in a specific and interesting way; both Street and Folk Art create from what's directly on hand, and neither look to the ivory tower for validation. I felt like those aspects create a context for work that says something authentic about our landscape and southern identity," she said.
"Both Street and Folk Art create from what's directly on hand, and neither look to the ivory tower for validation."
Since this type of art is often found in the south, it wasn't difficult finding artists for the show. In fact, it was more difficult finding pieces that fit the idea of the exhibition. Each piece had a message to send about the south and/or the artist. The show was a curated hodge-podge of pieces that may not seem like they all belong in the same show, but the common thread of southern identity ran through each one of them.
In this exhibition, a glittering sea-witch's chapel exists alongside a rustic piece of taxidermy art with a landscape of squirrels dressed in clothes; this further exemplifies the fact that these pieces could not seem more different from each other, but they carry a common theme.
Another type of art featured in the exhibition was graffiti art. Often underappreciated, graffiti is a part of the Street Art scene and is something Brandin Stallworth has found his passion in. Brandin is a local artist who helped start Red Cup Revolt, a group of artists with a similar style to him. His graffiti style is very different from a lot of the artwork commonly in galleries in the south, so he wanted to change that. "I like to experiment with my art. For this show, I took the panels and put my icons on there and just tried to do something different."
While Folk and Street Art are rooted in the south, there is still a lot that people can learn about it. Elizabet says this work has a lot to say about the south, about how we respond to different environments, and the assumptions we have about the role of the artist.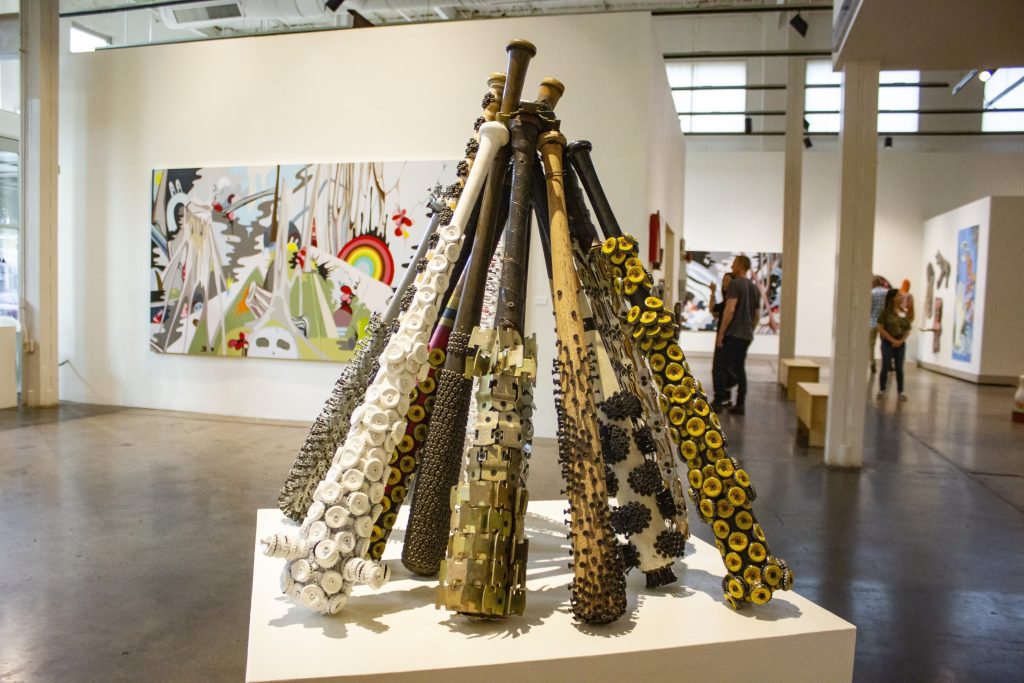 Urban Wild will be open to the public until October 26 with tickets at $5 regular and free for members and children under 12. Visit alabamacontemporary.org for more information.