Who runs the world? WOMEN.
As election season ramps up, we're spotlighting a few amazing women running for office throughout the Southeast. High-level international female leaders like New Zealand Prime Minister Jacinda Arden and German Chancellor Angela Merkel have garnered praise for their response to the Coronavirus Pandemic. US leaders like Atlanta Mayor Keisha Lance-Bottoms and Alabama Governor Kay Ivey seem to have taken a more cautious, fact-informed response approach than their male counterparts. And Democratic nominee Joe Biden recently announced Senator Kamala Harris as his running mate, who is only the third female vice-presidential running mate on a major party ticket. 

A worldwide crisis has put a spotlight on the effectiveness of female leadership, and as an organization that exists to empower women, the team at Focus is delighted to imagine a world in which women are equally represented in all levels of government. 

In the coming weeks, we'll introduce you to a few shining examples of qualified, dedicated women who are ready to lead with strength, empathy, humility and fairness in their communities. 
Jenny Arras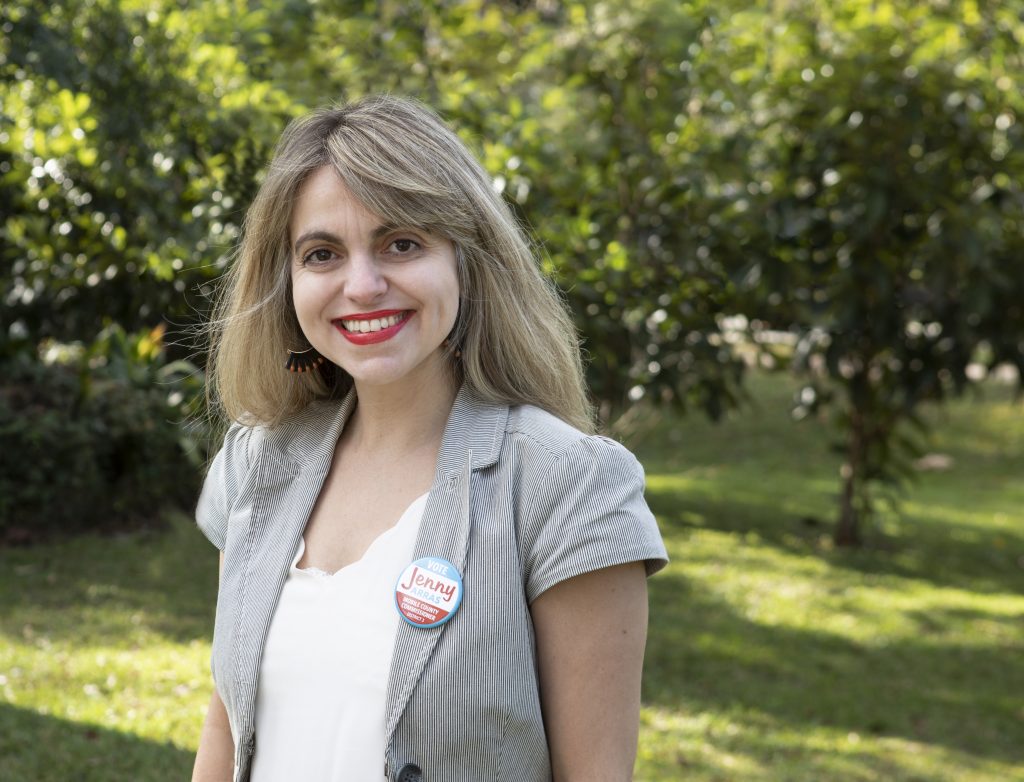 Jenny Arras believes we need more public servants in public service—politicians who are willing to listen and connect rather than ignore and divide.
"This country is so polarized because we don't have enough people trying to connect with others who have differences of opinion and belief," she says. "Especially on the local level, we have to remember that we belong to each other. We don't belong to political parties. We all want what's best for our community."
This vision is the driving force behind Arras's run for Mobile County Commissioner (District 3). Arras draws many similarities between public service and her career in education. She has been a teacher for 14 years—10 at the Alabama School of Math and Science in Mobile and four as a college English instructor at the University of South Alabama. She's taught students from a wide variety of backgrounds and beliefs.
"Teaching English, you have the capability to be able to teach a broad range of things, and when people begin to see the world with a more open mind, it makes us better humans," she says. "For me, the classroom has always been the frontline of change and social justice."
A deep love for Mobile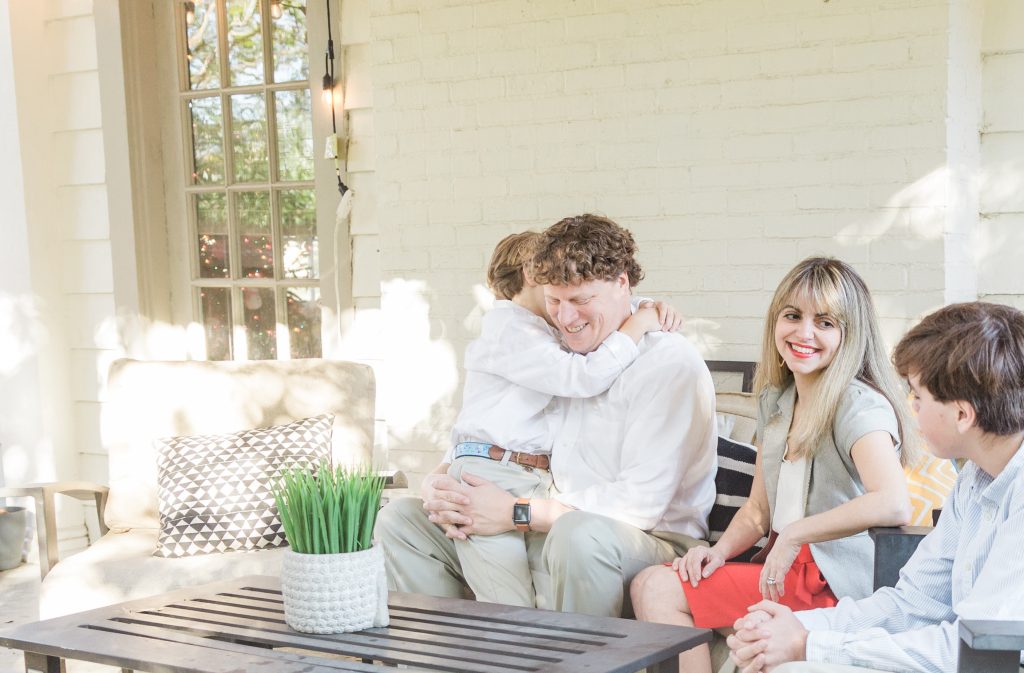 Arras was born in Mexico City. Her mother was studying at a university there when she met Jenny's father, who worked for the embassy. The family traveled a lot in Arras's early childhood and lived in Paris for four years. When Arras began school, the family moved to Mobile, where she learned to speak English in a kindergarten classroom. Arras graduated from Murphy High School's International Baccalaureate program before studying English at Tulane University, Spring Hill College, and UNC-Chapel Hill.
"My amazing husband, Chris Arras, a lifelong resident of Mobile and Chief Financial Officer of Chickasaw City Schools, and I are proud to call this place home," Arras says. "And we are proud to be raising our two beautiful boys, along with our extended families, in this beautifully diverse, vibrant community filled with such good, kind, and hardworking people."
Empowerment, inclusion and innovation
Arras's platform is all about empowerment, inclusion and innovation. As District 3 County Commissioner, she would serve the mostly rural southern part of Mobile County. The current Commissioner for that district is Jerry Carl, who is not seeking reelection as he runs for a seat in the U.S. House of Representatives. Arras, a Democrat, will face Republican Randall Dueitt, a 22-year veteran of the Mobile County Sherriff's Office, in the general election Nov. 3.
"A lot of constituents in District 3 talk about young families leaving the area, and I think a huge part of that is the lack of infrastructure and amenities in the area," Arras says. "It all comes back to empowering those communities so they can be the places those people remember growing up. We have to preserve the rural beauty of the district, but make sure constituents there have access to public transportation, rural broadband, great schools, job training, healthcare facilities, and other benefits."
Arras's goals include funding job and career training that would equip District 3 residents to work in high-tech, high-paying industries. She also strongly believes in innovative job training for non-traditional students in underserved communities as well as veterans, parents, and older people who may need new training to remain in an ever-changing workforce. Alongside job training initiatives, Arras wants to fund rural broadband, public transportation, and sidewalk initiatives to allow people without transportation to access resources, work, and education.
"A common misconception about these initiatives is people think if you care about the marginalized that's your only focus," Arras says. "But when you lift up the underserved, you help everyone. Elected officials should be empowering everyone, including the underserved alongside those who are already thriving."
Obviously, education is a top priority for Arras, and although County Commissioners don't directly manage school budgets, Arras supports fully funded schools and support for educators.
Addressing the "medical desert" issue in south Mobile County is a top priority for Arras. She hopes to direct funding to a medical center and mental health facility in District 3 that would give residents a closer option for medical care.
Finally, Arras firmly believes in inclusion—as a political leader, she plans to unapologetically lead from a place of acceptance for all people. Arras, who identifies proudly as Latina (she would be the first Latina candidate elected in Mobile County), understands how important it is for inclusion to be a priority in politics, especially on the local level. She has a progressive vision for south Mobile County that she hopes would ensure everyone feels at home.
"As a longtime educator, it has broken my heart time and time again to hear how many of my students have felt exiled by or like they didn't belong in their rural community—their home—because of their gender, race, sexuality, and/or religious beliefs," Arras says on her website. "We need to ensure that we create inclusive communities in rural areas where all people feel safe and welcome. The graciousness of people in rural America needs to be experienced and felt by all of its citizens."
We belong to each other
Arras believes in a kind, empathetic political discourse and a spirit of humility from public servants.
"We are all each other's neighbors. We share a home. We have so many shared ideals, values, and visions because we all want the best for our community," Arras says. "We don't belong to political parties—we belong to each other. Let's sit down and talk about ways to uplift and empower people in our district. I'm an educator and a mom, and I have a tremendous amount of empathy. I don't care if you're a Republican, Democrat, or Independent—I'm going to love you the same. I'm going to want you and your family to have the best quality of life."
Arras believes listening to and empathizing with others will be key to her success as a County Commissioner.
Learn more about Jenny at https://www.jennyarras.com/