Mobile Arts Council's biggest annual fundraiser, The Throwdown is an action-packed art competition where artists battle head to head for 90 minutes. Artists create an original piece of artwork using an 18×24 surface and incorporating items from a mystery box. At the end of the 90 minutes, the creations are auctioned off and the highest bid crowns the winner.
The 9th Annual Throwdown is going digital. Artists will battle it out reality tv show style on MAC's Facebook and YouTube accounts on Thursday, October 29th starting at 7:30 p.m. Hosted by Mobile's own Darwin Singleton, the event will also reveal some SPOOKY surprises. 
No tickets are required – everyone can watch and win one of five original works of art created. The original works will go up for auction at the end and the highest bid crowns the 2020 Throwdown Champion. Also, an online silent auction of art and other goodies and opportunities to win prizes. You can host a watch party to be eligible for additional prizes and download super fun printable photo props.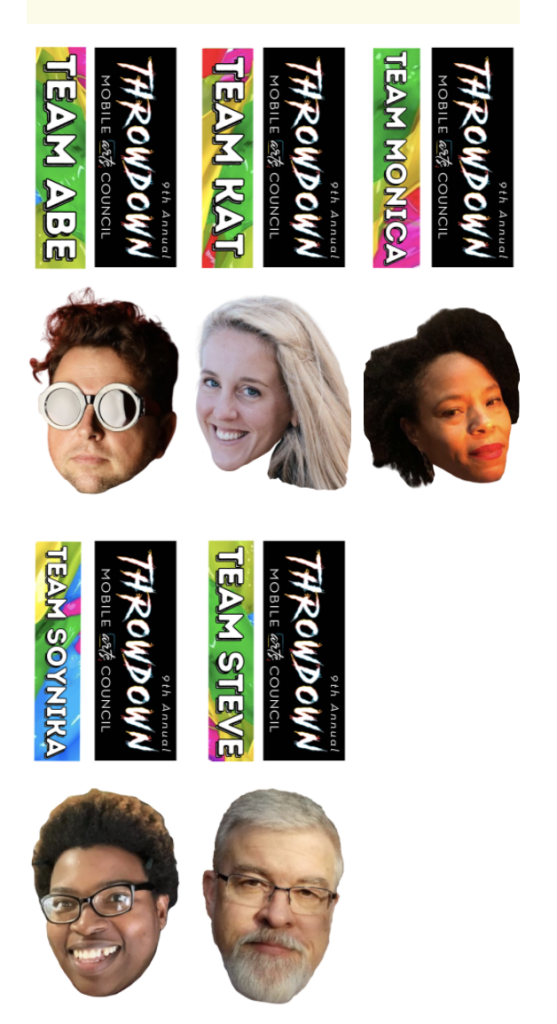 Mobile Arts Council's vital arts programs support local artists, educate children, and increase accessibility to the arts for our entire community. Their advocacy enriches our quality of life with public art and through increasing and promoting a vibrant cultural community in the Mobile area! They help make downtown awesome by organizing artwalk, events, festivals, and gallery shows.
Bidding will open October 29th and be available until midnight on November 1st.
Heroes Sports Bar & Grille is offering yummy prizes. Bid on any item and you're entered to win a $100 gift card and/or donate ANY amount and you're entered to win a $250 gift card.
2020 Throwdown artists include: Soynika Edwards-Bush, Monica J. Beasley, Kathleen Kirk Stoves, Abe Partridge, and Steve Joynt.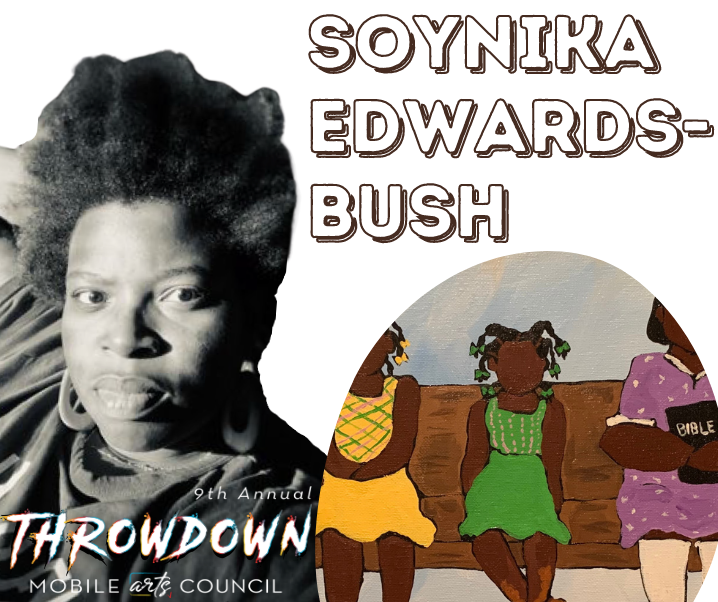 Soynika Edwards-Bush is no stranger to Mobile's art scene! She began painting at the age of five and art has since become an integral part of her life. As a mother of four, Soynika has kept her love of children a central part of her creativity. She is a teacher at the after-school art program with Legacy 166 and The Boys & Girls Clubs of South Alabama and admits that the young ones keep her on her toes and make her think outside the box. Soynika uses acrylics to create well-blended and much-loved folk-style art. Soynika is married to her high school sweetheart and lives in Whistler, AL. See more of Soynika's work at www.threelittlesistersart.com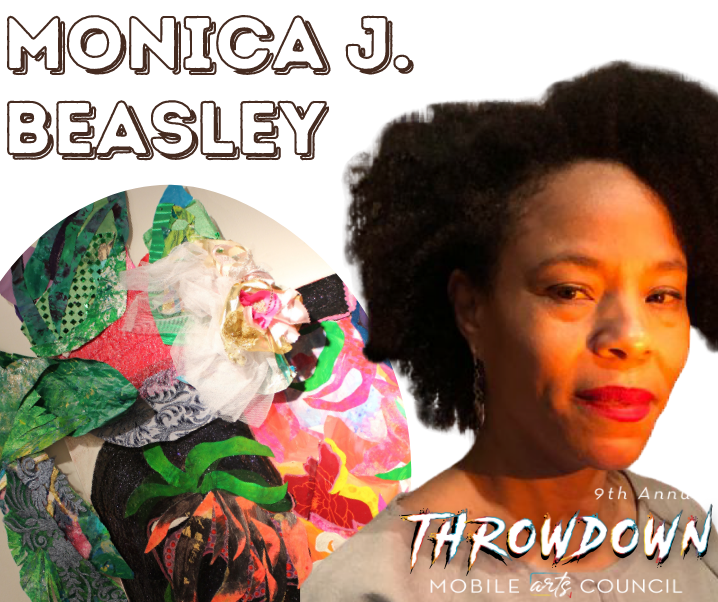 Monica J. Beasley's southern roots can be seen throughout all aspects of her work. Beasley's concepts of femininity, home, and marriage come to life in the variety of mediums she uses, from photography to painting and collage. Her use of tactile materials and bright colors will grab your eye, but don't overlook each piece's serious subject matter. Find out more about Monica and see her work at http://www.monicajbeasleyart.com/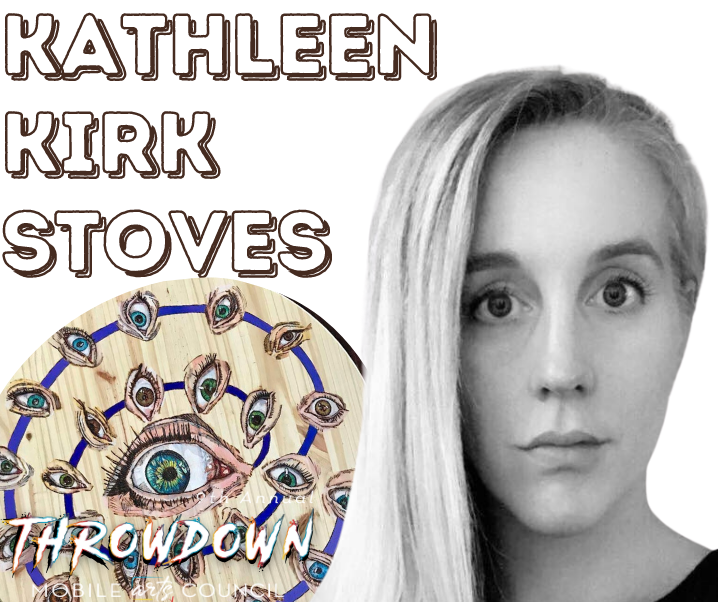 Kathleen Kirk Stoves is a working artist with an active studio space at Central Presbyterian Mobile. She has studied and worked with a variety of mediums but prefers pyrography and painting. Kat always uses a bold color palette and loves producing work with layered meanings behind it. See more of her work at Kat Kirk Stoves- ART or http://www.kmkirkart.com/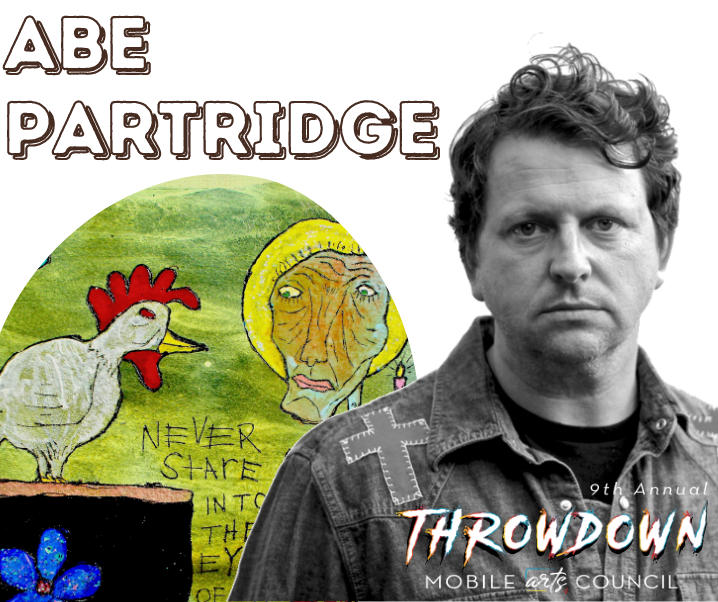 Abe Partridge went public with his art in February of 2018, and since then his work has been showcased in galleries and exhibitions throughout the United States. Abe's unique art starts with roofing tar that is thinly applied to plywood, musical instruments, damaged vinyl records, or any other repurposed items he can slap some tar on. After 30 days of curing, Abe carves his images in tar with a screwdriver or icepick, then completes the work with acrylic paints. Once a glossy finish is applied, you will see a work of art like no other! See more of Abe's work at www.facebook.com/partridgeabe or http://www.abepartridge.com/
Steve Joynt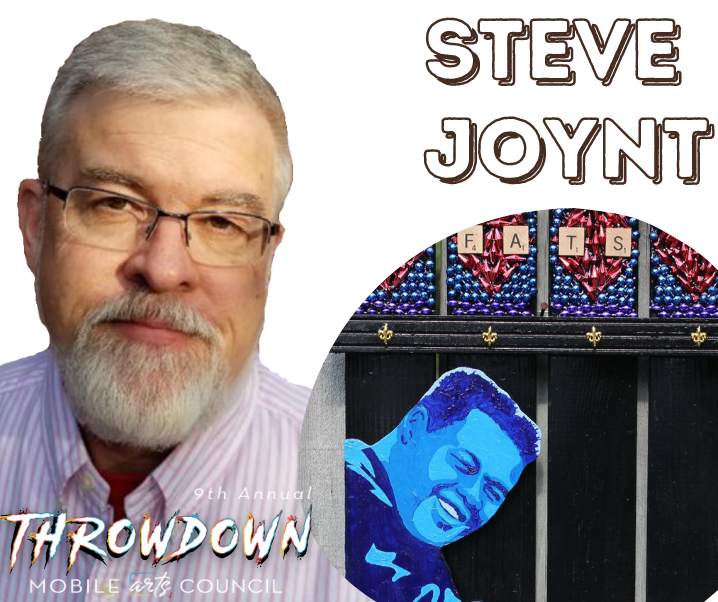 Art has always been a part of Steve Joynt's life, but it took 20 years to come out of hibernation. As an avid lover of Mardi Gras, Steve began using his colorful throws and repurposed items to create original works of art. On a whim, he displayed a beaded mannequin he created in Space 301's People's Art Show, and since then his "Thrown Art" has become a passion. See more of Steve's Thrown Art on his Facebook page or at http://www.thrownart.com/