What began as a soul project by local artist Courtney Matthews has grown into something that truly inspires local artists to be the creative people they are. Neu Dawn 2 in an art exhibition that featured the work of over 70 local artists, designers, models, hair stylists, and makeup artists. The theme was based on Pantone's Color of the Year, Living Coral. Instead of just framing pieces of art, this show took a step further and incorporated models with the pieces of art. Models were adorned in elaborate costumes and makeup to match each unique piece of artwork. Each artist involved had a different interpretation of how to embody Living Coral.
Courtney thought up the idea for Neu Dawn when she hit a creative block in 2017 and the project suddenly came "screaming out of [her]." She realized how many of her talented friends were not making art at that moment, so she wanted to create a fun, wild show that would force them all into it again.
Armed with a renewed motivation, she gathered her group of artists. Each year, the show has had a song to serve as inspiration and the Pantone Color of the Year for the theme. The first show's inspirational song was "Feeling Good" by Nina Simone; the lyrics "it's a new dawn, it's a new day…" were the basis for the name of the show. 2019's song was "Time Has Come Today" by the Chambers Brothers.
"In that very powerful song, they sing about the time arriving for ultimate change, for freedom, for love. Even though the song was recorded in 1966, it rings so prevalent with all of the changes going on in the world. Basically, it's saying that we cannot put off happiness any longer," said Courtney.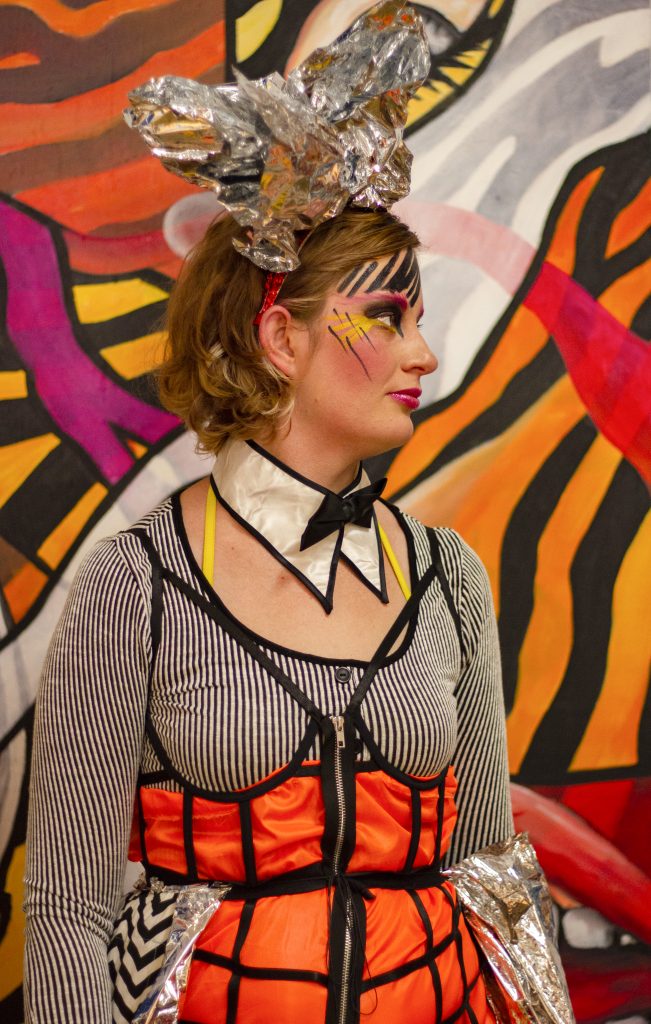 To make things more interesting this year, Courtney let fate decide which artists would work with one another. She drew names out of a hat to determine which five artists would work on each piece together. It was thrilling for everyone to see the final pieces put together after months of working separately.
After facing numerous last-minute challenges getting the show together, it all came to fruition at Sway downtown. Models decorated the sidewalk outside with a saloon style scene. Inside the studio, 20 models and accompanying pieces of art lined the room. Themes ranged from a phoenix rising from the ashes to a fierce lionfish.
Courtney collaborated on a piece with Lucy Gafford to create a psychedelic interpretation of Living Coral. "The cards of fate chose me for a good friend's art backdrop, Lucy Gafford. I love Lucy's work so much so it thrilled me tremendously to be chosen for hers. I had no idea what direction she was going to go in so when she told me her brainstorming was leaning in a psychedelic way, I couldn't stop my brain from shooting out ideas," she said.
While most artists collaborated on the final pieces, Jessica Price, a local hairdresser and makeup artist, created her whole look herself. A longtime friend of Courtney, she is proud of what the show has become and that she has been able to be a part of it in its first two years. "She has always been my muse of positivity and light and creativity and madness," said Jessica about Courtney.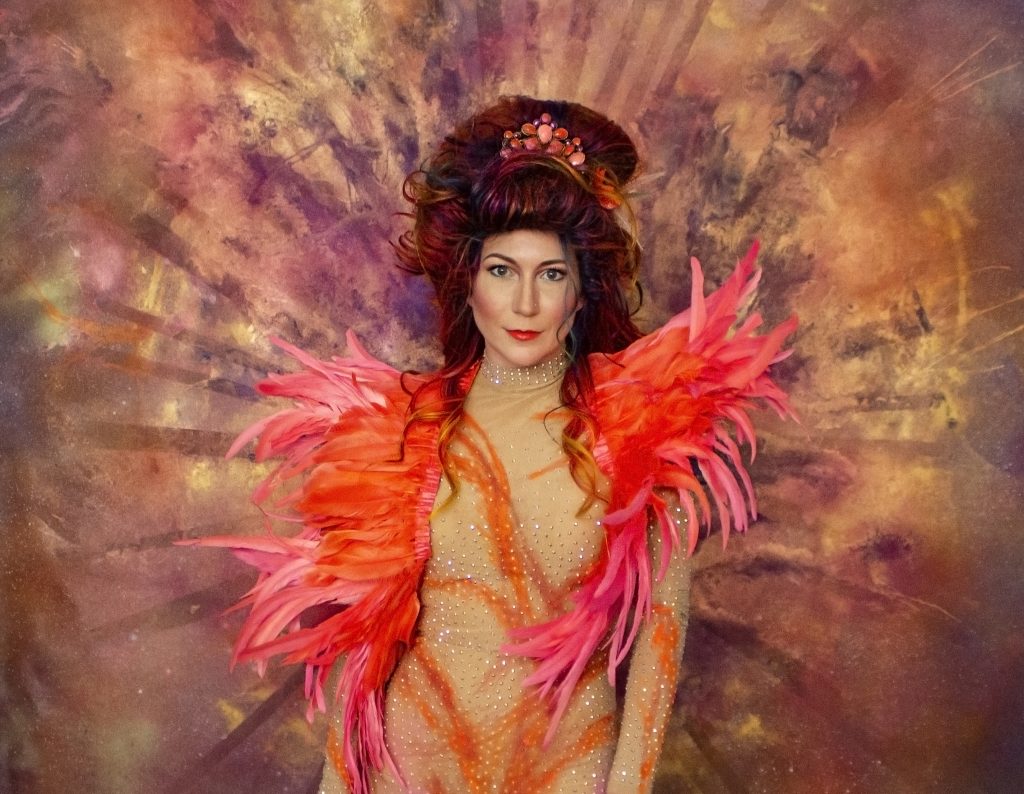 Jessica took a life experience of hers and used it as inspiration for her piece. "I was bullied as a child all through school. And instead of reacting in a negative way with that, I have grown to find the positive side of everything. So, this is my rendition of a phoenix rising from the ashes. It's all about putting the rays out into the universe."
Passionate about the local arts community, Courtney wants to make sure children are exposed to the arts. Each year, she benefits summer arts programs. The first year it was Mobile Arts Council, and this year it was Alabama Contemporary Art Center.
"It thrills me to have a way to support their incredible efforts by helping to make sure we have artists in our future."
With the show being such a success, Courtney is already speculating about what next year's Pantone color will be. She wants to continue providing a creative outlet for local artists to be creative and express themselves in an unusual, unexpected way.
"Support your local artists, creatives, movers, and shakers. Support the events that you think are cool so that we have reasons to create more. I sought out in this to inspire the artists I know in this wonderful, eclectic community. And they inspire me with their gusto in their voices when they agree to be a part of Neu Dawn," said Courtney.
Save the date 05-04-2020 for Neu Dawn 3.