Universities and cities all around the globe are participating in the activist movement known as V-Day to end violence against women and girls. The University of South Alabama held its sixth V-Day in February with two main events. The USA V-Day organization is led by Dr. Krista Harrell, Associate Dean of Students and Title IX Coordinator at USA, and a group of dedicated students. Their goal is to bring awareness of the issue of violence among college students and to help students feel comfortable speaking about the issue.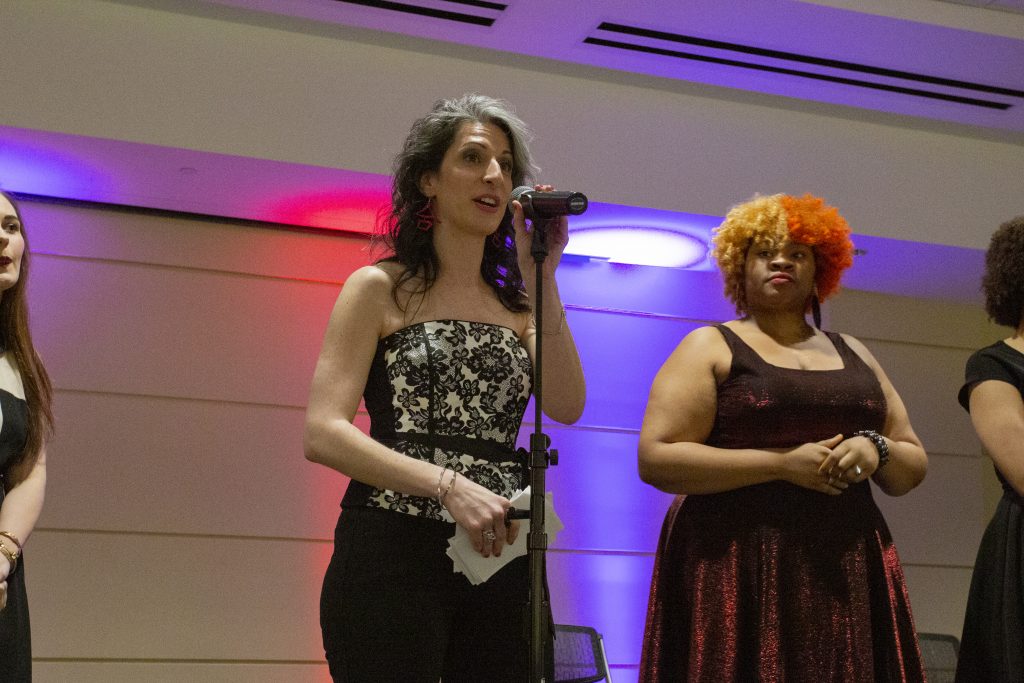 "When I first participated in V-Day at other institutions years ago, it was such a life changing and eye-opening experience. I started to realize how many people I knew had been affected by violence. I felt that I had a responsibility, given my role at South Alabama, to do everything we could to give a voice to these stories. They are representative of a woman's experience all throughout life. I felt like we needed to give a voice to those who can't speak out for themselves," said Harrell.
I felt like we needed to give a voice to those who can't speak out for themselves
Ninety percent of the proceeds from USA V-Day ticket sales went to the Penelope House, a shelter and counseling service for battered women, while the remaining ten percent went to V-Day International so they can help expand the movement around the globe. This year, USA V-Day was able to donate almost $1,000 to the Penelope House, which is the most it has raised in its six years.
The first V-Day event was "We Need to Talk" by Janine Latus. Latus is the author of "If I am Missing or Dead," a book that describes her history with abuse along with her sister's.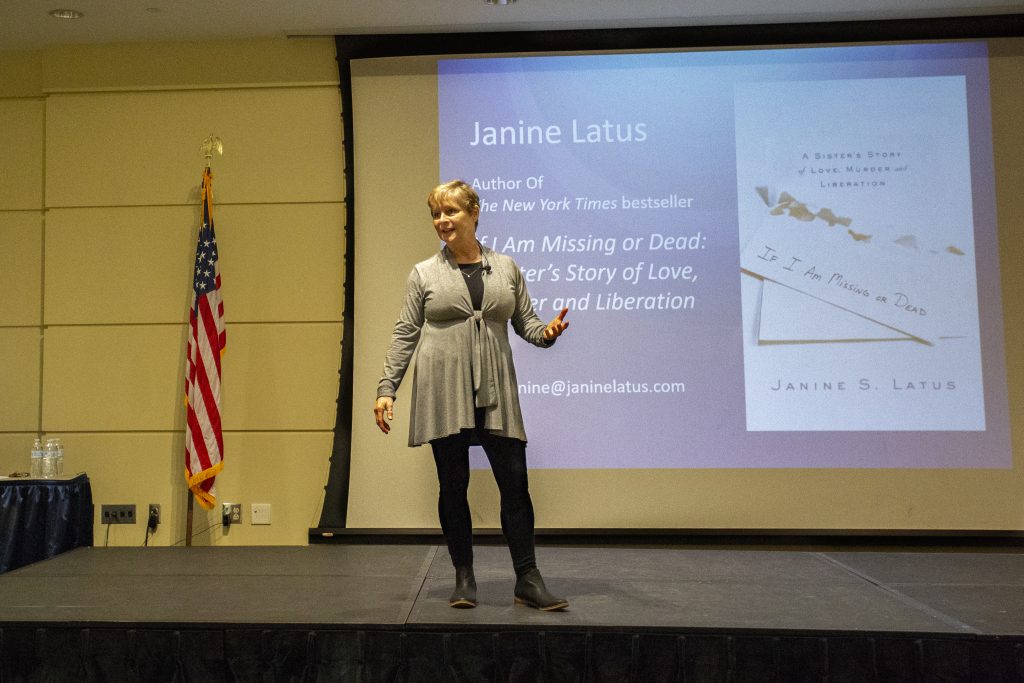 "It's a story of two sisters who grow up to become victims of angry, controlling men. One of them breaks free and thrives and the other one is murdered by her live-in boyfriend. I am the sister who survived, and I had to go find and help identify my sister's body. So, I wrote a book to try to save other people from what my family went through," Latus said.
Latus uses her book to bring awareness of the sometimes-subtle nature of abuse. She wants everyone to know that abuse isn't always hitting – it's not letting you spend time with friends, it's controlling your finances, it's using children as leverage, it's monitoring your phone…the list goes on. The bottom line is, abuse exists in many forms, and she doesn't want anyone to suffer through it anymore.
"Abuse doesn't start with a fist. It starts with degrading you, demoralizing you, finding your vulnerabilities, and playing on your vulnerabilities. So, if I can help convey that, I will consider it a success," she said.
V-Day's main event was "A Memory, a Monologue, a Rant, and a Prayer" in which cast members share the stories of victims of abuse. The students who participate in V-Day are volunteers who are passionate about bringing these messages and stories out to the community. Raven McShan has been working with V-Day for two years as a cast member.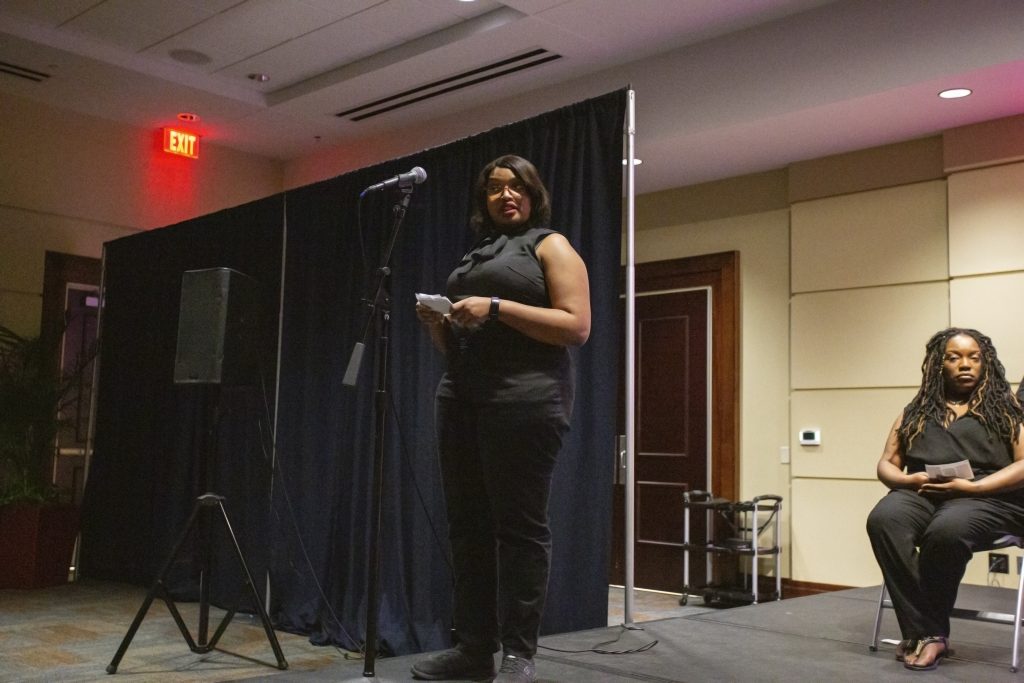 "I love being a part of V-Day because I feel like I'm making a difference. Being able to share someone else's story and inspiring others to share their stories, I feel like we're all making a difference," said McShan.
While the cast is majority female, there were two men on the cast this year. Shaun Holloway and Justin Penninger wanted to be able to show that feminism and women's empowerment is a responsibility for men, too.
"I feel like it's got to start somewhere. There were guys out there in the audience who saw how comfortable we are with sharing these stories, so hopefully it will inspire them to get involved with it," said Holloway. "The purpose of us being here is to make sure we understand that we can make a change in this process, too."
While no student has the designation of "president," Addison Grissett was the main event organizer for V-Day 2019. She attended V-Day three years ago and instantly fell in love with the event.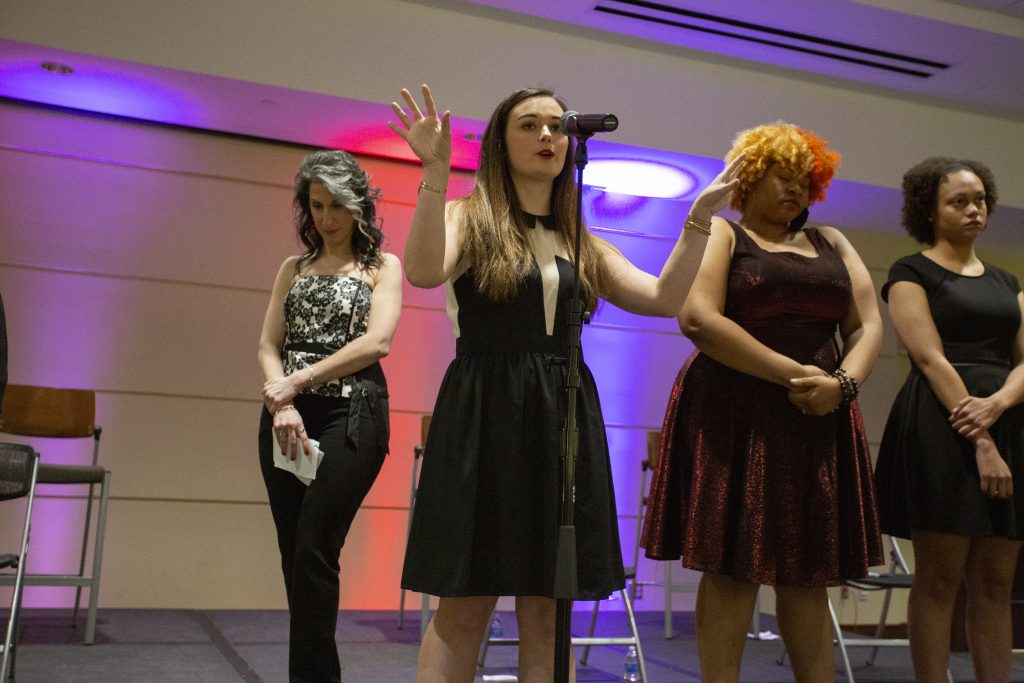 "I just think there's something really beautiful about people being able to share their stories together in such an intimate setting," said Grissett. "A main goal we had was having as many people as possible at the events this year. We wanted to get the word out to more and more people."
I just think there's something really beautiful about people being able to share their stories together in such an intimate setting
V-Day's impact on the community and the university is one with immeasurable benefits. Events and organizations like this provide a safe place for people to share their stories with people who truly care and want to help them.
If you or someone you know is a victim of abuse, call the National Domestic Violence hotline at 1-800-799-7233.
To donate to VDay's national organization, visit https://secure3.convio.net/vday/site/Donation2?df_id=1325&1325.donation=form1.
To volunteer at Penelope House, visit https://penelopehouse.org/make-a-difference.