15 Questions with Bay Area Boss Babes
In this series, we sit down with some of the boldest and brightest women the Mobile Bay Area has to offer for a simple Q&A session. In 15 questions (or less… we know they are busy) we share their perspective on what it means to be a #BossBabe and how they work to encourage others and continue to grow as an empowered woman.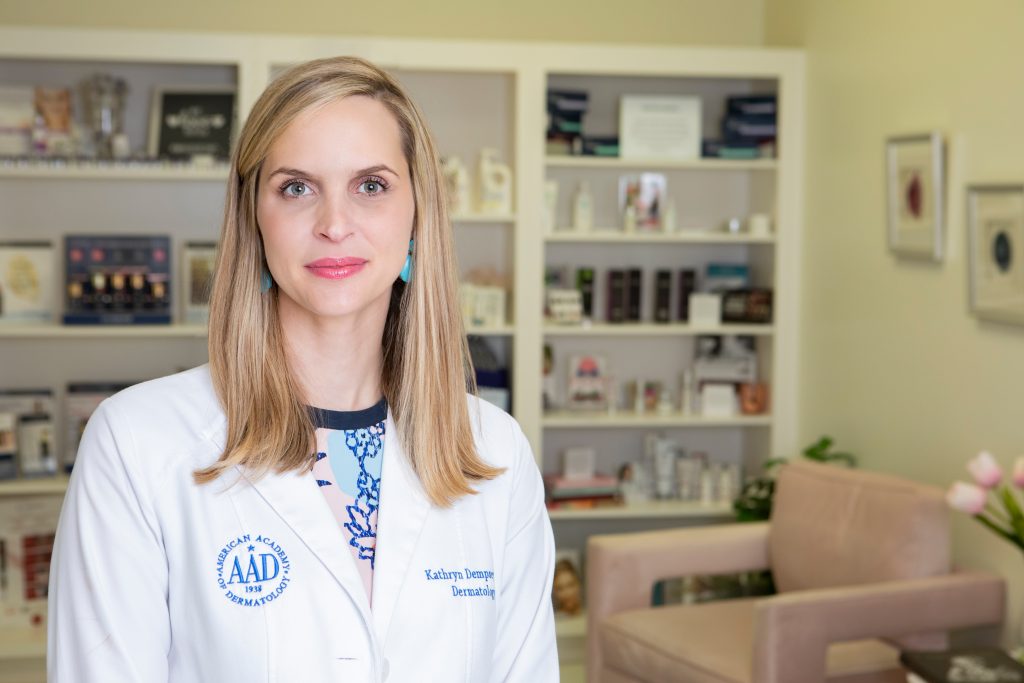 Meet Mobile Dermatogolosit (and one of our favorite follows on Instagram) Kathryn Dempsey, MD. Last year, this #BossBabe stepped out on her own and opened Coastal Dermatology & Skin Care Center, where they specialize in comprehensive dermatologic care for all ages, skin types, and skin conditions. We first "met" Dr. Dempsey in the world of social media and instantly felt connected to her. With nearly 15,000 followers, this micro-influencer has found a way to connect with women over Instagram by educating them on skincare while adding a little fun to their day during those moments when she keeps it real. Whether sharing lifesaving advice on how to spot melanoma or messy pictures of her car's back seat (as a reminder to throw out sunscreen that's been left in the heat of the car because it's no longer effective), she has positioned herself as somebody we can trust and relate to.
Dr. Dempsey recently took time out of our busy schedule to give us some perspective on how to keep that perfect Instagram envy at bay, how she juggles it all, and what lessons she tries to instill in her daughter every day.
---
We first "met" you in the world of Instagram and quickly become addicted to your stories and looked to you for daily advice on all things skin care. In the world of perfect instagram pictures and facebook posts, how do you deal with comparing yourself to other women and what advice do you give to other women who struggle with that? One of my favorite quotes is "Don't compare your life to others. There is no comparison between the sun and the moon. They shine when it's their time." I have to remind myself of this daily. We are all gifted with different talents, and there really is no comparison between one person and the next. Social media has made it so easy to feel down about yourself when you look at someone's "shiny" life in pictures, but you can't believe everything you see. I've really tried to make it a priority to keep my Instagram account "real" and talk about struggles that I face and how hard mom life can be—hopefully that helps at least one person feel like they aren't alone.
We love that you keep it "real." It's what made us feel connected to you. Social media has been a great tool for you to connect with your clients and build relationship with women. Can you tell us a little bit about that? One of my favorite things about my job is the longterm relationship that I get to build with each of my patients. I see many people on an annual basis and some as frequently as every three to six months. I love that we get to develop a strong rapport and see each other throughout different stages in our lives. While my first concern is always to address my patient's skin care needs, I do make it a top priority to truly get to know each person as well. I love that during a visit I get to educate on warning signs of skin cancer and how to best protect your skin, but I also love learning about my patient's families, their hobbies and what makes them happy. I think it is very important for physicians in any field to try to really get to know their patients—it allows us to give the best care possible.
Women in the workplace often depend greatly on their community. Something that really stood out to use when we first started following your page was how much your team feels like a family and they all seemed to be really involved. Tell us about your employees/your team around you and how it makes you a better leader/team player. I work with a wonderful team of eight women every single day. In fact, the only man that works in our office is my husband. Each of these women are valuable contributors to the practice and keep it running smoothly and efficiently on a daily basis. I truly believe that empowered women empower women. Women also understand women and moms understand moms. Having these women around me has made be a better leader because I am empathetic to their professional and personal needs. I know what it is like to have a sick child or need to change plans last minute to be there for an event in your child's life. Consequently, we do our best to take care of our employees and help them out however possible. We let them bring their kids to the office if other childcare isn't available. We encourage our patients to bring their kids as well. If one of our team members needs to be at a baseball game or school event, we don't hesitate to let them go to that.
Sometimes relationships between women can be competitive or catty in the workplace. How do you avoid that and what's your best advice for working with women and/or men? One of my favorite quotes is "In a world where you can be anything, be kind." I try to live my life by this daily, and I hire kind employees. Since founding Coastal Dermatology, kindness has been the top characteristic that we look for in our teammembers, and it has really paid off. We have a wonderful, uplifting and supportive work environment and everyone helps everyone out. We have zero tolerance for cattyness in our office.
Although you just opened your practice in 2018, you've been in the industry since 2014.What advice would you give to women trying to break into your industry? Don't listen to the negativity. Think positive thoughts and go for your dreams but remember this, "dreams don't work unless you do." Put in the hours, don't give up and stay determined.
What does an average day look like for you? I usually get up around 5-5:30 and chart for about an hour. Then I help make my daughter breakfast and get her ready to school. Somedays I drop her off, some days my husband does. Then I go to full clinic seeing both cosmetic and medical dermatology patients. After that, I do some post clinic work and then pick my daughter up. We head home for dinner, bathe and then bed time. After that, I usually eat with my husband and then head to bed. Repeat, repeat, repeat. There are a few yoga and pilates classes thrown in as well.
That's a busy day! Everybody suffers from burn out from time to time, especially women who are finding a way to balance it all. You seem to really love what you do; tell us why. What keeps you motivated? My job is the best. I could write an entire dissertation on why I love being a dermatologist but to keep things brief, I will sum it up with this- it feels great to make other people feel great. And that's what I get to do daily- make others feel good about themselves. Whether it is clearing acne, finding and treating a skin cancer early or turning back the clock with cosmetic injectables, I am truly blessed to have the opportunity to help my patients feel confident and comfortable in their own skin.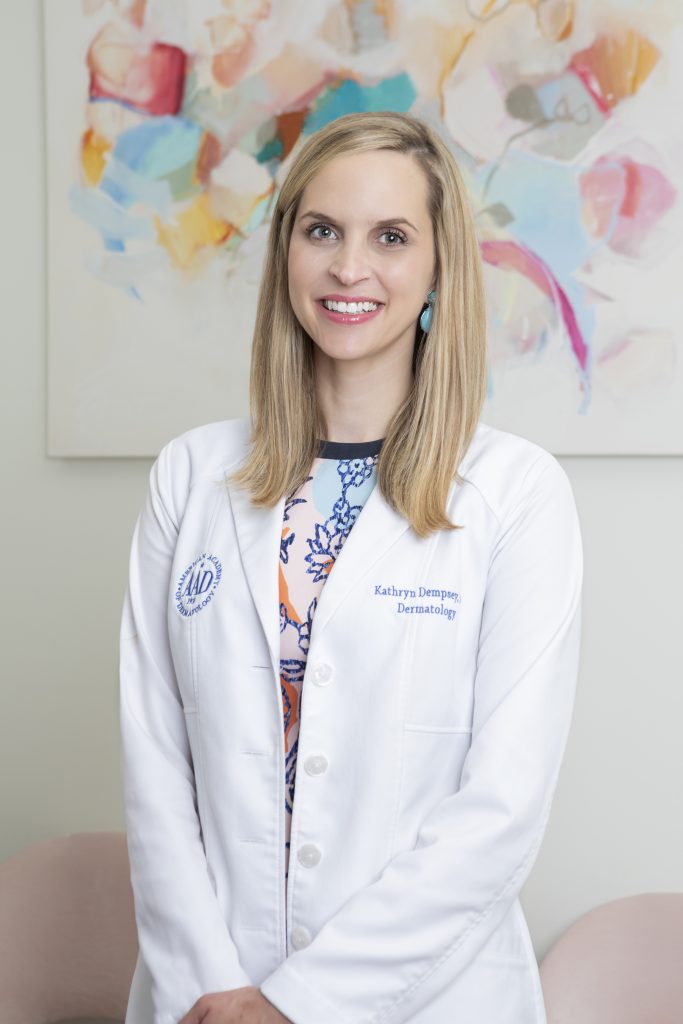 Speaking of being comfortable in your own skin, every high school girl goes through their own rough patch. If you could tell your high school self anything what would it be? Don't listen to negative things people tell you. Do listen to the positives. Believe in the complements you are paid and don't downplay them. If you have a goal, go out and achieve it. Also, wear sunscreen.
Now we know how you spend your weekdays, but where would we find you on a Saturday morning at 10 a.m.? At the beach, with my family, wearing a wide-brimmed hat and UPF 50+ rashguard, sitting in the shadiest place possible.
Ha ha! We love seeing your long sleeves at the beach on Instagram! And we love how you share so much of your life with your followers. From work to family life, you give great perspective on all areas of a working mom's life. What's the hardest part about being a working mom? Balancing the time between all of my demands and being present in the moment.
What's the best part about being a working mom/wife/single mom? Providing a good example to my daughter.
How did you balance being a mother and professional? What have you sacrificed (both personally and professionally) at each stage of your career? It's hard but I try to balance it by being present in whatever situation I am in. I've made a lot of sacrifices and missed numerous social events to study or take care of patients. I missed out on parties and football games in college so that I could make straight As. I missed out on weddings during medical school and residency to study on the weekends and take care of patients. I worked quite a few Christmas holidays in the hospital in the past. Now with a daughter, I have had to miss school events when my patients need me and that has been hard.
Your followers really enjoy seeing videos of your daughter Annabel! From putting on sunscreen to walking us through how to cleanse your face, she seems to really love skincare. Besides teaching her to take care of her skin, what else do you try to teach her everyday? I try to make sure my daughter knows that she should treat everyone as she wants to be treated, and we talk about the importance of kindness and inclusion daily. Also, I want her to know that she has no limitations and if she wants something to go after it!
Tell us what you like to do when not working. Hobbies, favorite restaurants, any local spots. I like to do yoga, pilates, spend time with my family and go to the beach. Some of my favorite local spots are Chuck's, Red or White, Southern National, Bake my Day and El Papi.
Besides daily sunscreen and tweakments, how do you take care of yourself everyday so that you stay balanced and centered? Yoga, pilates, meditation and taking some time for myself.
Now that we've covered self care, how do you work to give back to others and why is that important? I participate in several free skin cancer screenings throughout the year (usually at runs) and I volunteer at my church with Angel Choir and Sunday school. It is vital to the success of any community (and individual at that!) that we lift each other up, volunteer our gifts and help one another out. "Those who are happiest do the most for others."
---
For more information on Kathryn Dempsey and Coastal Dermatology & Skin Care Center visit coastaldermatologyofal.com.