15 Questions with Bay Area Boss Babes
In this series, we sit down with some of the boldest and brightest women the Mobile Bay Area has to offer for a simple Q&A session. In 15 questions (or less… we know they are busy) we share their perspective on what it means to be a #BossBabe and how they work to encourage others and continue to grow as an empowered woman.
Since 2008, Lenise Ligon has been a familiar face in the Mobile Bay area as a news anchor on WALA, FOX 10. Her warm-hearted interview style, trustworthy personality, and passion for storytelling are some of the reasons that she is a favorite among viewers in our community. Originally from Detroit, Lenise began her career as an entertainment host and has worked in the industry for more than 20 years.
The hardworking wife and mother of two recently took the time to give us a glimpse into her average workday, tells us about her mentors and the strong women in her life, and provides some words of wisdom for women who are walking the path to empowerment and struggling with self-doubt.
---
It seems like every time we turn on Fox 10 news we see you! You're one busy lady. What does an average day look like for you? Oh boy…Every day brings a new adventure. I'm up by 6am getting my son and daughter ready for school. I head for my workout after drop off. I generally make a quick trip to the farmers market to grab ingredients for dinner. Tonight, I am making a corn risotto with sautéed spinach with honey glazed blueberries. I wrap the plates for my family, then I head into the station…barring I don't have any speaking engagements or public appearances. You hit the ground running as soon as you get in—emails, phone calls, editorial meetings, promo recordings, script writing, makeup. Then I am on air starting at 4pm. Once the 4pm and 5pm newscasts are finished, it's time to prepare for the 9pm and 10pm newscasts. I am usually home and asleep by 1:30am.
Wow. That's a busy day! What's the hardest part about working those kind of hours as a wife and mother? Time, or lack there of… With my work schedule, the only quality time I have with my family is on the weekends. In the morning, it's a mad-rush to get ready for school. When I get home from work, everyone is sleeping. I am very fortunate to have a great support system. My husband has always been supportive of my career and helpful at home: helping with homework, extracurricular activities…and sending videos during my newscasts of the events I miss.
With such a busy schedule, how do you take care of yourself everyday so that you stay balanced and centered? Exercise, meditation, and clean eating and lots of water. I run at least 4 miles during the week, and practice hot yoga on the weekends. I end all of my runs with a 12 minute meditation. It generates kindness, enhances self-awareness, and increases your focus.
Now that we know you start your weekdays at 6:00 a.m., where would we find you on a Saturday morning at 10 a.m.? In the kitchen making pancakes with my daughter. It's our routine—homemade pancakes every Saturday morning with maple syrup.
It sounds like you take your personal time seriously as a great way to balance it all. What do you do when you're not working? Cooking, running, yoga, going to the movies, and reading. I have been a vegetarian for about seven years now, so I love experimenting with new recipes…one of the reasons why you'll often find me at Allegri Farm Market. I am usually a sweaty mess because I have just left the yoga studio or finished my morning run.
From watching you on air to seeing you out and about at at community events, you seem to really love what you do. What do you love most about your job? I worked and studied hard to become a journalist so I could make a difference in my community through storytelling. I just enjoy sharing people's stories. We can learn so much from one another.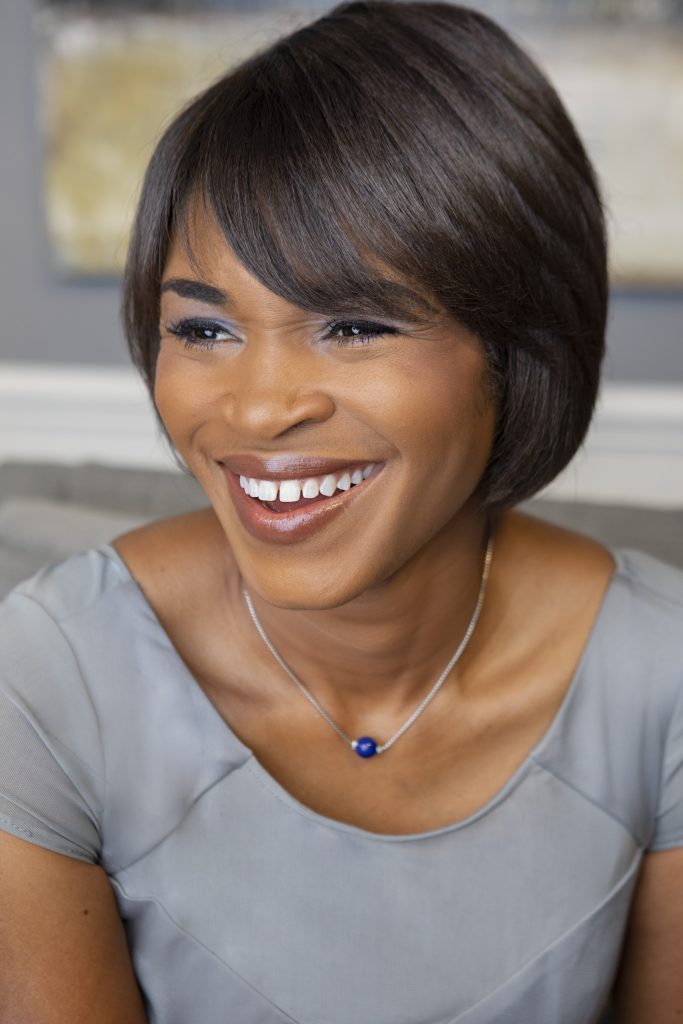 Speaking of learning from others, what/who inspires you? My biggest role models have always been my mother and grandmother. My mother is one of my best friends. She was a single parent and among the many lessons she taught me, there's one that always stuck with me—that you have to work hard for what you want in life. Ethel, my grandmother, was perhaps the biggest giver I've ever known. She spent much of her life helping others and would have never hesitated to give a complete stranger the clothes off her back. I learned the importance of serving others from her.
Serving others, specifically women in our community, is one of the reasons we started Focus Women's Conference. What made you want to be a part of this feature and our overall mission? I love the idea of empowering others. It's one of the reasons that I became a journalist—to help others. Women's conferences like Focus are a great way to hear success stories and to find mentors and resources to help make a better impact on society and in the workplace.
You definitely practice what you preach when it comes to giving back to our community. Can you tell us a little bit more about some of the organizations you're passionate about? I devote my time to various community organizations. Educating the public on the importance of maintaining a heart-healthy lifestyle became important to me during my teenage years, after losing my grandmother to heart disease. I have long been a volunteer for the American Heart Association. In February 2019, I was the Chair for the Mobile Go Red for Women Leadership luncheon. It was a tremendous honor hosting such an educational event. I am also a member of Impact 100 Baldwin County, an organization of women committed to making a significant, lasting difference in the lives of Baldwin County residents. Being one of the focus group members is especially rewarding, because I get to see the many nonprofits in our community working to make a difference and participate in the decision making of grant finalists.
You work hard to inspire others in our community. What is your vision or hope for women in the Mobile and gulf coast communities? That they would take better charge of their health.
As somebody so strong and confident in herself and passionate about helping others, what advice or suggestions can you give to women walking the path of empowerment that are struggling with self-doubt? Be comfortable ruffling some feathers. Not everyone is going to like you, and that's okay. If you want to change things, you are going to be disliked. If you please everyone, you aren't making enough progress.
---
For more information about Lenise check out fox10tv.com or tune into FOX 10 News at 4, 5, 9, and 10 pm.